Competitions

Secondary schools
Primary schools
Food and Drink Product Development Competition
Develop a new Welsh recipe or food/drink product and you might win an iPad.
To promote the food and drink manufacturing industry as the successful career that it is, we would like to invite young people from your school to enter an exciting competition.
Recipe and product development is a major role of food technologists working in food and drink manufacturing businesses. The competition highlights this role and shows the science that is involved, with the aim of encouraging more people to explore a food and drink manufacturing career.
Entrants must be aged 11-16 and are asked to submit a novel recipe from one of two categories: a traditional Welsh recipe with a twist; or a recipe using Welsh ingredients. One winner will be picked by a panel of food and drink industry professionals and the prize is an iPad.
Please submit recipes (one recipe per pupil) via the application form which you can download here. Closing date: 11 June 2018.
For more information on careers in food science and technology or in the food and drink industry, please contact us at ZERO2FIVE@cardiffmet.ac.uk.
DVLA Code Challenge 2018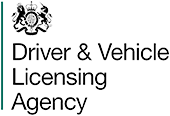 The 2018 DVLA competition is now launched across Wales! Fabulous prizes on offer for schools.
The website has all the information schools need to register for the competition, how to enter and the themes and a downloadable A5 flyer.
This year both primary and secondary schools are eligible: there will be two competitions running side by side – one for the 7-11 year olds and the other for the 11-14 year olds.
All themes are open to all age groups, the only difference is, that the 7-11 year olds can only use SCRATCH (same as last year), but the 11-14 year olds may choose any language they wish.
The closing date for entries is midnight on 12 October 2018
Young Enterprise Fiver Challenge

The Fiver Challenge provides a highly interactive, fun way of introducing financial numeracy, resilience and teamwork in learning for primary school pupils. Pupils have 1 month to set up a mini business and create a product or service they can then sell or deliver at a profit and engage with their local community.
The Fiver Challenge runs over four weeks with a competition marking the end of each week, and the National Fiver Challenge Competition marking the end of the programme.
Monday 4 June: Primary Schools in England and Wales start the Challenge
Friday 8 June: Deadline for Competition 1 – Logo Design
Friday 15 June: Deadline for Competition 2 – Sales Pitch
Friday 22 June: Deadline for Competition 3 – Advertising
Friday 29 June: Deadline for Competition 4 – Pop-Up Shop
Friday 6 July: Deadline for National Fiver Challenge Competition
Be sure to sign up early here as the funding for this competition is limited.
Contact fiverchallenge@y-e.org.uk / 07966 048074.
The Nancy Rothwell Award

The Nancy Rothwell Award celebrates specimen drawing in schools and highlights the benefits of combining art and science.
There are three age categories (7-11, 12-14, and 15-18) and prizes are awarded
The overall winner in each category will be awarded a set of drawing pencils, a certificate and £25. The winners' schools will also each receive £100.

Both highly commended entrants and winners will be invited to an experience day at the Royal Veterinary College.
Each entrant may submit one drawing. Please only submit a photograph or scan of your drawing, as any original artwork will not be returned. Entrants are encouraged to label their drawings.
The Award will close for entries on 10 September 2018. Teachers can download a poster for the competition here and a PowerPoint presentation here to use in their art/science lessons to inspire their students' drawings.
If you have any queries please email Raghav Selvam
Draw an Engineer Competition 2018

The INWED Draw an Engineer Competition returns for another year to help celebrate International Women in Engineering Day.
Aimed at children 5-11 in key stages 1 and 2, this can be a great way to get your school involved if you are not already planning something. The pictures chosen by our panel as the winners receive a prize and will be featured on the INWED website.
To enter, simply draw, crayon or paint an engineer on A4 paper and send a high resolution scan of your submission with the subject line INWED COMPETITION ENTRY to inwed@wes.org.uk.
Please include your name, age, Key Stage 1 or 2 & School (if applicable). The closing date for this year's entries is Monday 25 June 2018.
You can download a poster shown to display in your school here. For more ideas of what to do on the day or during the week leading up to INWED please remember to download our Resource Pack.
Enterprise Troopers 2018

Enterprise Troopers 2017/18 is now live. Take a look at the Competition Handbook 2017-18 to find out more. When you are ready, register your interest here.
All enterprise activity that you do in your school is eligible, as long as it takes place between 1 January 2017 and the closing date, 11 May 2018. So you could enter a project you're working on already!
If you're looking for fresh ideas get inspiration from the regional and national finalists from the 2017 competition here. Or take a look at these case studies from Enterprise Troopers schools.
The 2018 Regional Final dates and venues are:
Tuesday 12 June 2018 – Venue Cymru. Llandudno
Friday 15 June 2018 – Folly Farm, Kilgetty
Tuesday 19 June 2018 – Blaenavon Workmens' Hall, Blaenavon
Friday 22 June 2018 – The Hafren, Newtown
The National Final will be on Tuesday 3 July 2018 at Cardiff Metropolitan University.
Great Bug Hunt 2018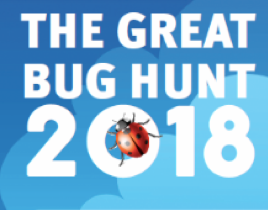 The Great Bug Hunt is a great opportunity for pupils to get outside to learn more about living things and their habitats and to use the outdoor classroom.
Simply identify a local habitat, get the pupils to explore and discover the minibeasts (bugs) that live there, draw them and record their findings – it's that easy!
This exciting competition, now in its sixth year, fits into the curriculum. Specifically in Wales, Foundation Phase - Understanding of the World: Myself and Other Living Things and KS2 Interdependence of Organisms.
There are three age categories for entries: 5-7 years/KS1, 7-9 years/LKS2 and 9-11 years/UKS2. The closing date for entries is Friday 15 June 2018.
You can download a pdf poster here.
The Great Bug Hunt is supported by the Association for Science Education in Partnership with the Royal Entomological Society.
The Armourers and Brasiers Tata Sixth Form Materials Prize

The aim of the Armourers and Brasiers Tata Sixth Form Materials Prize is to give students structured opportunities to find out about materials science and engineering outside their normal lessons.
It asks students to make a sustained commitment to learning about materials throughout year 12. The timing of the project is such that materials science is fresh in the minds of the participants at a crucial time, when they are making their course choices and starting the UCAS application process.
The deadline for the submission of portfolios is Friday 29 June 2018.
Photography Competition 2018

The Royal Society of Biology annual photography competition invites amateurs to submit photographs on a particular theme
'Patterns in nature' is the theme of this year's competition. Life on Earth encompasses a myriad of regular forms, sequences and structures and we invite you to capture these details of biology. The judges are looking for an original interpretation of the theme
A poster for this year's competition is now available – download here.
There are two categories in the competition, each with a cash prize:
Photographer of the Year (18 and over) – £1,000 top prize
Young Photographer of the Year (under 18) – £500 top prize.
Closing date 31 July 2018.
Plate tectonic stories – competition from The Geological Society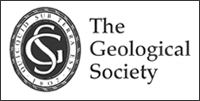 The Geological Society is inviting all primary, secondary and 6th form college geography, geology, science, technology, art and even dance classes to get involved and tell us a plate tectonic story of your own by creating something that brings plate tectonics to life and demonstrates some of the processes involved!
Plate tectonics underpins all processes operating on Earth so students could angle their work at volcanoes, seismic waves, heat transfer, radioactive decay, Earth materials – whatever they find interesting and whatever suits their subject! Entries to the competition will receive a free educational classroom poster as well as the chance of winning £150 worth of Earth science related books for their school. More here.
RAF100 Competition

The RAF100 Competition is an opportunity for young people to tell the story of an RAF base and bring together their understanding of history and physics
The history of the RAF demonstrates how people and their needs have pushed scientific development. How can knowledge of those people and the technology they worked with push us to think about developments for the future?
On this website there is an interactive map showing all the RAF bases in the UK and another of all the RAF bases used globally. The maps start from the First World War period through to today. Currently these maps only include very basic information about each of the bases. We would like schools and youth groups to provide the information about the bases.
In addition to helping tell the story of each base, the competition offers an opportunity for young people to bring together their understanding of how scientific ideas and technology have developed in history to explore current and future technological developments that might shape the RAF and civilian world of the future.
The prizes include opportunities to attend commemorative events during the centenary year, as well as gifts for the school.
Age groups: the competition will run with three age group categories: 11-14; 14-18 and 11-18.
Closing dates: the prizes are spread over 2018 and include tickets to events, so there are three opportunities to enter for different prizes:
Closing date 1: will close on 30 March 2018 (closed)
Closing date 2: will close on 11 June 2018
Closing date 3: will close on 30 November 2018
Schools/youth groups etc can put forward as many entries as they wish for each of the deadlines, but each entry (research piece/film etc) can only be submitted once.
No More Cabbage!

This year's CLEAPSS competition updates a classic practical activity.
Help your children make and investigate the best alternative indicators to red cabbage. There are prizes available for children, the school and staff.
Faraday Challenge Day applications for 2018-19 are open!
IET Faraday Challenge Days give students the opportunity to research, design and make prototype solutions to genuinely tough engineering problems. At each event teams compete to win a prize for themselves and a trophy for their school.
The event is free of charge and set up and run by our team of STEM professionals to give you the time to focus on your students.

Delivered by the IET in 68 schools and 12 Academic Partner universities – as well as further events available as requested by funders and sponsors – the Faraday Challenge Days are one day STEM activities for six teams of six students. Our 2018-19 season's Challenge Days are designed for Year 8 students (England) and their equivalents (aged 12-13 years).
Download the application form here.
Famelab
FameLab is a science communications competition designed to engage and entertain. Contestants from around the world take part armed only with their wits and a few props – the result is an unpredictable, enlightening and exciting way to encourage your curiosity.
We are now inviting scientists, mathematicians and engineers across the globe to take part in this flagship science communications competition in their national rounds!
National winners of all 25+ participating countries will then meet at Cheltenham Science Festival (5-10 June 2018) to battle for the title of FameLab International Champion in front of a live Festival audience. Online registration here.
The Art of Sustainability and STEM

You are the designers of the future; all our futures. Science Technology Engineering and Maths (STEM) will be at the heart of that future. Consumption and Waste is one curriculum topic in Education for Sustainable Development and Global Citizenship (ESDGC). Future design will be about creating a Sustainable world. One where we are contributing to the Well Being of both ourselves and the natural world.
The Challenge is to design a Sustainable Kart to race in the Brockweir Soap Box Derby. Info here and here.
The winning team will have to demonstrate how their Kart delivers Well Being. Teams will have to think through Sustainability demonstrating how the whole life cycle of the Kart meets with cyclical design.
An award for the most Sustainable Kart will be presented at the end of the race also learners may be able to work towards a Crest Award as part of this project.
The next race date has not yet been set, but will be in the autumn of 2018 so there's plenty of time.
Contact Steven England at TheArtofSustainability@hotmail.com for more details.
Cisco Little Big Futures
The Internet of Things (IoT) is about connecting the unconnected. Getting everyday objects to send, receive and process data to solve real-world issues.
Cisco and STEM Learning relaunched the Little Big Awards in 2017 to now be Little Big Futures. This programme has a collection of resources for students aged 11-14 to participate in five one-hour lessons across the STEM subjects and STEM clubs.
Each one-hour resource includes subject-specific investigations, exploring the Internet of Things. You don't need any specific technology for these interactive and engaging activities. These resources introduce upcoming technologies that will soon be part of everyday life. They give your students the opportunity to be creative with their learning and explore careers education.
Cisco is also sponsoring schools to take part in the CREST Discovery Awards and they will cover the cost of applying.
Students will work in teams to investigate a real-world problem and report on their findings. You can request a local STEM Ambassador to inspire and support your students during this challenge
2018 Salters' Festivals of Chemistry
Entries for the 2018 Salters' Festivals of Chemistry are now live.
Don't miss out on participating in one of these fantastic events which:
Excite pupils by doing practical chemistry
Give pupils responsibility to carry out investigations "like a real Chemist"
Encourage team working and independent problem solving skills
Give teachers an opportunity to network and participate in CPD
One team of four students per school are welcome to participate from Year 7 and/or 8 in England and Wales.
Students will experience two hands-on practical Chemistry challenges, exciting chemical demonstrations, a prize-giving ceremony with prizes for winning schools and fun prizes and certificates for all participants.
More information and online entry here.
Uncover Copper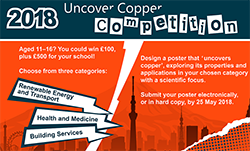 Are you a UK student aged 11–16? Would you like the chance to win £100 (plus £500 for your school) by exploring copper's essential role in our present and future? Read on!
Copper surrounds us. It's in our phones and tablets, the walls of our houses, our hospitals and even inside our bodies, but we rarely notice it. This competition calls on students to uncover copper, seeking it out in buildings, health and medicine, and new applications in renewable energy and sustainable transport systems.
More here. The deadline is 25 May 2018. Winners will be announced in June.
Manchester University Animation competition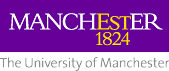 Led by the Manchester University School of Computer Science, this annual competition supports the teaching of computing in schools. It's designed to enthuse schoolchildren aged 7–19 about computer science. More information about the competition and who can enter here.
Advanced Propulsion Centre primary competition
The Advanced Propulsion Centre UK is offering an opportunity for primary school pupils to compete in the Greenpower electric car race. The competition is entitled 'How we will travel in year 2050?' ¬– for more information on how your school can win a Greenpower kit car, please email jen.mcglade@apcuk.co.uk.
IET Faraday Challenge Days

IET Faraday Challenge Days give students the opportunity to research, design and make prototype solutions to genuinely tough engineering problems. The winners of each event win prizes for themselves and a trophy for their school. The top three teams from across the UK get an all-expenses paid trip to the National Final in June each year to compete for a cash prize of up to £1,000 for their school. Enter here, more information here.
Schools Competition 2018 Imperial College London
The Faculty of Natural Sciences Schools Science Competition 2018 will open for registrations in October 2017.
The theme for 2018 will focus on the UN's Global Goals for Sustainable Development. Teams are asked to select a specific goal and to come up with a new and innovative scientific solution in response to this.
To enter, teams must create a 5 minute film that: briefly outlines the goal they have selected; describes their innovative solution; explains the science behind the idea; and illustrates how their idea would address the goal.
The best teams will be invited to present their idea at a showcase event at Imperial College in front of a live audience and a panel of VIP judges. The competition winners will each receive individual prizes, will be given the opportunity to visit a world-leading science facility in the UK. Find out more here…
Better Energy School Awards

The Better Energy School Awards aim to assist and encourage environmental education for young people aged 5-11. They promote cross-curricular work on the environment and ANY work you are doing at your school covering any kind of environmental issue can be entered. The Better Energy School Awards for excellence in environmental education link with the National Curriculum for England and Wales and the Scottish Curriculum for Excellence – explore our guides here.
Enter your school today – win up to £5,000! Read the competition rules here.
The Better Energy School Awards are split into four regions (South/Central, North, Wales and West, Scotland) and there will be a winner for each Award category in each region. The best entry chosen from all of the winners in each region will be made a Regional Champion and will receive £1,000. The best of the Regional Champions will be chosen as the UK Champions, who receive a total of £5,000 for the school funds.
In addition to all the winners, 16 Runners-Up will receive £250 each for the school funds. A further 20 Highly Commended schools will receive £100.
Representatives from the four Regional Champion schools attend a special Awards Ceremony in London, where they receive their prizes from specially invited celebrity guests. Previous venues include London Zoo and the Science Museum.
Step into the NHS Competition
The Step into the NHS schools' Competition offers students in years 8 and 9 the chance to win a tablet or a £50 Amazon voucher.
There's much more to working for the NHS than being a doctor or nurse. In fact there are more than 350 different careers in the NHS and, with that many careers on offer, there's a job to suit anyone, no matter what your interests and skills are. The Step into the NHS competition asks students to choose an NHS career that interests them and create a job description and an advert to tell their friends and other young people about it. Students can work on their own or in teams of up to four.
Find out more and apply here…
DVLA Code Challenge competition
The DVLA are launching a new Code Challenge competition for Primary Schools in Wales. Substantial prizes are on offer. Find out how to get involved here. Download the poster (printable pdf) here.
RHS Greening Grey Britain

The RHS would like you and your group to identify an area in your local community that could do with a bit of colour. Sign up to take part in Greening Grey Britain and the RHS will send you a free packet of wild cornfield seeds which are all perfect plants for pollinators.
Help spread the word of Greening Grey Britain and win prizes by sharing your photos on Twitter using #GreeningGreyBritain and @RHSSchools. Prizes will be awarded every week so get snapping! If you decide to green up an area in your community, you may also be eligible to apply for the RHS Level 5 School Gardening Award and receive £200 in gardening gift vouchers.
BBC Terrific Scientific

The campaign consists of 10 nationwide investigations and hopes to encourage one million children to take part. Terrific Scientific will also enable children to undertake genuine research using their science enquiry skills to inform the work of leading universities. The investigations are designed to be accessible and use everyday items.
Science and Wildlife Presenter, Liz Bonnin is an ambassador for Terrific Scientific and feature in this introductory film which explains what the campaign is all about. Schools can sign up here to take part.
Forensic Outreach Competition (students aged 11-16)
The competition is designed to encourage students to apply their knowledge of art history, science, mathematics and cryptanalysis to solve the mystery of Leonardo da Vinci's real-life missing painting, The Battle of Anghiari. The challenge includes a lesson plan, worksheets and other resources. Register your interest here.