The Primary Science Teaching Trust (PSTT)
The Primary Science Teaching Trust (PSTT) provides financial assistance to improve the teaching and learning of science for children and young people in the UK.
Primary Science Teacher Award 2018

Each year approximately 25 primary science teachers are awarded a Primary Science Teacher Award (PSTA). Once awarded, these outstanding teachers will enjoy the following benefits:
Prize winners will be invited to join the PSTT Primary Science Teacher College as a College Fellow.
College Fellows have access to funding in excess of £500,000 a year to develop new projects, undertake professional development and to disseminate best practice from their work and that of the Trust.
Annual invitation to the Primary Science Teacher College Conference
College Fellows have access to a range of resources and growing network of excellent Primary Science Teachers
£1,000 prize money for the teacher
A selection of TTS science resources for the teacher
£500 prize money and a Primary Science Teaching Trust Certificate for the school.
More here… You can see how to apply and also previous year's successful teachers' entries. The benefits of this award to you and the school are significant.
The PSTT website showcases some of the exciting developments that have been taking place and provides both excellent Continuing Professional Development (CPD) resources and a growing range of lesson and planning curriculum materials.
Science Enquiry: Wales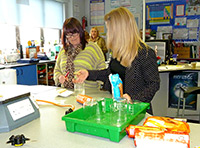 See Science manages the project 'Science Enquiry: Wales' which is funded by the PSTT. This exciting project was set up to support Scientific Enquiry and the transition between primary and secondary schools in Wales. The project is funded by the PSTT and managed by See Science Ltd.
The project process
Secondary schools and their feeder primary schools collaborate with each other and with STEM (Science Technology Engineering & Mathematics) Ambassadors – people who want to share their passion for their careers to encourage pupils of all ages to take an interest in STEM Subjects.
The schools and Ambassadors work together to develop a sequence of lessons which will improve pupils' science skills and knowledge, which pupils then apply in an investigation. This investigation is carried out in the classroom with the teacher and the STEM Ambassador working together.
The teachers from the cluster primary schools attend a two-day Continuing Professional Development (CPD) course where they find out how to improve pupils' science skills and develop interactive learning. They plan a course of action with a STEM Ambassador. Once this has been completed, the teachers present their pupils' work at a final celebration.
Both primary and secondary teachers are given a toolkit of teaching activities that can be used to support other teachers in carrying out similar work after the end of the project.
One outcome from the previous project was analysis of the wide variety of recording methods used in science lessons by primary and secondary pupils. The teachers felt that the use of a wider variety of recording methods improved learning outcomes, leading to greater understanding and appreciation of science. It also enabled the pupils to take more ownership over their work and in many cases changed their attitudes to science to one that was more positive. Areas of recording which were particularly successful included movie making, videos, animations, raps, poems, displays, models, cartoons.

During their participation in the project teachers are made aware of the Primary Science Quality Mark (PSQM). A PSTT College member attends the CPD course to speak of their experience of PSQM, the benefits of PSQM and how to apply for funding to run it.
Project outcomes
An improvement in the standards achieved by pupils in science skills.
Greater variety of recording methods used in science lessons.
An increased understanding by teachers in both phases of the progression in science skills.
A greater awareness of the STEM Ambassadors programme.
An improvement in pupils' attitudes towards science and scientists.
Videos
To view each video, click on the thumbnail: the Youtube or Vimeo video will launch.
Feedback from teachers participating in the project
"I think the results speak for themselves in terms of the project being a success. 94% of the children asked said they would like to take part in a similar project again. Probably the most significant finding was that 95% of children believed the project helped them improve their skills and understanding. From the teacher's perspective, we find these results underpin how important the project was in developing the children's knowledge and enjoyment of the subject."

Chris Davies Roath Park Primary School

"The children really enjoyed the project and because they knew it was to inform others, they ensured they researched the topic thoroughly. The project allowed the children to be both independent and to work collaboratively. In order to produce an i-movie, the groups realised that their research needed to be accurate and detailed. The children's skills progressed in science because of the depth of learning they were required to do in order to present the i-movie, but their skills in I.T. were also called upon when editing needed to be done, and music added where necessary. All in all, the project left the children with a sense that science is fun."

Louise Fry and Louise Tanner. Lakeside Primary School

"The project has definitely increased understanding in both phases. The opportunity for primary schools to present and showcase their work in interactive displays was fantastic. It gave secondary teachers a greater understanding of the depth of scientific knowledge the primary pupils have acquired and the experiences undertaken."

Cardiff High School

"The project has definitely strengthened transition links, made us consider teaching skills in different ways and equipped pupils with a stronger drive to pursue a career in science in the future. Many thanks all!! Please feel free to pilot any future schemes on the wonderful Bro Gwaun family of schools in the future."

Emma Bowen, Ysgol Bro Gwaun
"The resources provided have been invaluable – the planning sheets and example experiments were very useful. I will definitely be using them in future." Abigail Davies, Holy Name RC Primary School

"The children's literacy skills were developed through different means of recording and presenting their work – writing comics, recording iMovies, creating iBooks, developing oral reasoning skills through questions posed in concept cartoons and developing thinking/mind mapping to convey learning."

Jeff Lansing, Murch Junior School

"I think that working with a STEM Ambassador has had a huge impact on pupils' attitude to Science …lots of them have said that they would love to be a R&D engineer (like Stuart) as it sounds interesting and exciting. Stuart's visit was inspiring – the pupils referred to things he had said during Science lessons."

Abigail Davies, Holy Name RC Primary School

"The fair test board is now part of all our investigations and I feel confident that the children have a much greater understanding. I have cascaded the fair test board to all KS2 teachers. The board was introduced to them during a staff meeting where I also showed examples of my children's work."

S Lewis, Goodwick Primary School
Feedback from pupils participating in the project
"I enjoyed sharing the information that I have learned to other pupils and people. We also worked together more than usual. I liked performing because it was nice to show what we did to other schools. Ours was unique and it was nice to show that."

Pupils from Roath Park Primary School
"Stuart (STEM Ambassador) was really interesting – I didn't realise that there were so many different jobs a scientist could do." Pupil at Holy Name RC Primary School

"After Stuart's visit I've been looking at different things and wondering about the scientists who designed them."

Pupil at Holy Name RC Primary School.

"I never used to like science before, but now I think it's great. I understand it better now. It just makes sense."

Charlotte, Yr 6

"I have really enjoyed doing different experiments and learning some new things in science. I enjoy how it makes me think about things and predicting what I think is going to happen."

Sam, Yr 6