What can See Science provide for schools?
STEM Ambassadors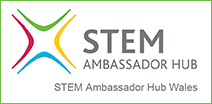 We manage the STEM Ambassadors Programme in Wales. The Programme enables anyone with Science, Technology, Engineering and Mathematics (STEM) skills to inspire young people (5-19 year olds).
Pages in this section…
The pages in the 'For teachers' section of the See Science website are:
STEM Ambassadors demonstrate the possibilities of STEM subjects and careers by revealing how essential STEM is throughout the world in which we live.
STEM Learning Ltd currently has almost 30,000 STEM Ambassadors nationally available to work with young people.
In addition…
We can visit your school, find out what your current and future needs now are, and help you to integrate STEM E&E (Enhancement and Enrichment) activity into your school's life.
If you would like to get an event or project going in your school, or would like to know what activities are available to engage and inspire particular groups of pupils with STEM, we can give you free advice and guidance.
We can provide access to our wide range of STEM Ambassadors and explain what they can offer.
We can help you set up an after school STEM Club or organise activities as part of NSEW.
We hold networking events where teachers can meet STEM Ambassadors, E&E providers and other teachers to find out what is on offer and share experiences.
We can provide advice on sources of funding and help you make a compelling application.
Each term we send our newsletters featuring up to date information on what E&E opportunities are available.
Contact us at enquiries@see-science.co.uk to learn more about what we can offer your school and organise a visit from us.
Enhancement and Enrichment
"You can see exhibitions about engineering, you can be told about it, you can look at pictures, watch videos and read books, but until you've had a go yourself you haven't experienced the thrill of it…. At first I was interested. Now I'm addicted." Peter Jones, A level student.
An enrichment and enhancement STEM activity, or E&E activity for short, is an activity that offers schools the opportunity to deliver exciting and inspiring activities to the classroom.
The possibilities for presenting a motivating and stimulating activity to students are endless. See Science provides impartial advice and guidance on STEM Enhancement and Enrichment (E&E) activities.
Submit a story or information…
Send us a news story or information about activities, events, competitions, resources, etc.
Contact us at enquiries@see-science.co.uk with the following information:
Title
Content (100 words max)
Contact details (if relevant).
This is for publication – so keep it interesting and put the most important information first.
For a STEM enhancement or enrichment activity to be effective:
It will make a difference to learning – seeking changes in motivation, attitudes and enthusiasm which can impact on teaching and learning in lessons
It will fit into the school's curriculum design and delivery methods
It will improve teachers' understanding of STEM education and the benefits they will gain by engaging with a STEM activity
There will be access to resources from industry that will make a difference in the classroom.
Are you getting the See Science teacher e-newsletters?
If you want to receive, or continue to receive, the See Science schools e-newsletters, please use this mailchimp subscriber form to complete or update your profile. Under the new privacy regulations which come into force on 25 May 2018 we will not be allowed to send out newsletters to you unless we, or STEM Learning, have your permission to do so.
The form allows you to specify whether you would like to receive the Secondary newsletter, the Primary newsletter, or both.