See Science is committed to supporting STEM (Science, Technology, Engineering and Mathematics) delivery across the whole of Wales to all schools, FE colleges HE Institutions and community groups.
We offer a range of products and services that support the teaching and learning of STEM subjects in Wales within a real world context.
Workshops and Projects
See Science offer a variety of bilingual STEM workshops and CPD for schools and businesses which can be tailored to suit your individual needs – read more here.
Find out about the current projects See Science has initiated or is involved with here – and our previous projects here.
STEM Ambassador Hub Wales
See Science coordinate the STEM Ambassador Hub in Wales to help inspire young people about STEM.

We keep schools in Wales informed about high-quality activities that they can access to enrich and enhance the STEM curriculum and enable them to use a range of STEM Ambassadors, so that teachers can incorporate into their teaching exemplary links to the world of work.
You can request a STEM Ambassador for your school, STEM Club or community group here.
CREST Awards
CREST is Britain's largest national award scheme for project work in the STEM subjects - Science, Technology, Engineering and Maths. CREST brings science to life by offering young people aged 11-19 opportunities to explore real world projects in an exciting and innovative way.
See Science is the Regional CREST Support Organisation (RCSO) Wales. We provide expert guidance throughout the CREST Awards scheme.
Read more about See Science and CREST here.
Resources, activities and providers
Follow these links for comprehensive lists of up-to-date resources, activities and external providers offering STEM-related activities or services.
Feedback
"The project has definitely strengthened transition links, made us consider teaching skills in different ways and equipped pupils with a stronger drive to pursue a career in science in the future. Many thanks all!! Please feel free to pilot any schemes on our family of schools in the future."
Read more feedback and testimonials about See Science's services and projects here.
ASE Cymru Conference - Amgueddfa Cymru National Museum of Wales
Over 90 delegates attended 'STEM and the New Curriculum' conference at St Fagan's National History Museum on 13 October despite the ferocious weather. A partnership event between the ASE Cymru and Amgueddfa Cymru National Museum Wales.

The keynote session featured a useful and informative panel discussion on preparations for the new Curriculum in Wales. The panel included Tom Crick, Chair of National Network for Excellence in Science & Technology; Sue Quirk, Education through Regional Working; Andrew Jones, Ysgol Glan y Mor; Elaine Stockdale, Tongwynlais Primary School and Sharon Pascoe, Fochriw Primary School.
The discussion received very positive feedback including:
"Very interesting workshops and new ideas for teaching the new curriculum"
"Engaging speakers with excellent ideas for practical work"
"Really impressed by National Museum's Resources"

Teachers were then provided with an opportunity to attend breakout sessions to allow in-depth discussions focusing on primary, secondary and sector-wide STEM learning.

This was followed by lunch and an opportunity to visit the exhibition area, where there were displays by Data Harvest, Hodder, Timstar, Gratnells and the Royal Society, together with other local exhibitors.

Hands on workshops in the afternoon were very popular and provided teachers with lots of ideas and resources for the classroom. The plastics workshop by Lewis Brown, National Marine Aquarium Association, involved participants becoming part of an ocean food web. Glen Gilchrist, Consortium South Central, lead a popular workshop about the role of Practical work in science lessons which provided food for thought. Other participants enjoyed the creative chemistry of 'Let's Explore' with Dayna Mason from the Royal Society of Chemistry. A coding workshop with Andy Harper, University of South Wales, provided opportunities to learn how to code robots. Heather Jackson, National Museum Cardiff, and Debbie Syrop, Cardiff University School of Engineering, led a practical session on how schools can plan a mission to Mars. Finally, participants braved the weather with Ieuan Donovan, St Fagans National History Museum, and explored how to use scientific surveys in a creative way.

The new Atrium building at St Fagans National Museum of History provided an excellent space for the creative and informative discussions and workshops that helped make this year's conference a success.
Teen Tech City of the Future at Ysgol Islwyn, Blackwood
Over 200 students from 7 Primary schools shared their ideas for the TeenTech City of Tomorrow in the first 2018 showcase day for young people in SE Wales.
The project invites students to apply bold thinking to creating the 'kinder, safer and smarter' world they would like to live in whilst surfacing some of the 'invisible' jobs which these young people will be doing in the future.
Young people are inspired to consider careers they may not have realized existed and given the confidence to believe that they can shape the future.
TeenTech provide schools with inspiring resources to lead the project which is designed to
be versatile so schools can run it independently or form a 'cluster' where secondaryschools acting as the hub co-ordinator for feeder primary schools.
Year 7 students from Islwyn High School worked with younger student in 7 primaries,
(Cwmfelinfach, Rhiw Sir Dafydd, Bryn, Penllwyn , Pontllanfraith, Trinant, Ynysddu) to
produce 64 buildings which re-imagined everything from the future home to the future
transport hub, the future entertainment centre to the future hospital. All buildings have to
be made from recycled materials.
The showcase day hosted by Islwyn provided an opportunity for the young people to meet
judges from across industry who provided feedback on their models and for them to
progress ideas for the internet of things by participating in a TeenTech workshop led by a
game designer. CEO TeenTech and former Tomorrow's World presenter Maggie Philbin who hosted the day said, "It was great to hear feedback from students and teachers on how much students (and teachers) enjoyed the project. It's designed to be very easy for a non-subject specialist to lead whilst providing plenty of opportunities for schools to go into considerable depth if they wish. Students quickly see how creative the world of science and technology can be and how it really makes a difference to our lives. The world of work is changing very quickly and it's vital for students to see how they might want to be part of this. The project brings the world of science and technology to life.
'We want to say a massive thank you to the students, teachers, industry ambassadors and
to Islywn School especially who worked so hard to make this happen. A team from each of
the schools will be now chosen to participate in the national showcase at The Emirates
Stadium in London on April 2nd 2019.
Schools across Wales can register here to receive all the resources they need to participate in the project.
Professional Teaching Awards Cymru
Do you know an outstanding teacher that deserves recognition? Is there someone at your local school that needs celebrating? Are your teaching staff leading the way in technology or science?
The Professional Teaching Awards Cymru are back for 2019! Education Secretary, Kirsty Williams is looking for the very best education professionals that Wales has to offer and those that have made a real difference to their school or education setting.
There are ten categories this year including Teacher of the Year, Headteacher of the Year, Inspirational use of the Welsh Language and, new for 2019, Youth Work in Schools so there is plenty of opportunity for your school to get the recognition that they deserve.
If you're a teacher, student, parent, employer or colleague and know someone that would be worthy of a Professional Teaching Award you have until midnight on 30 November 2018 to make a nomination online here .
World Antibiotics Week 13-19 November - free resources from GSK STEM Education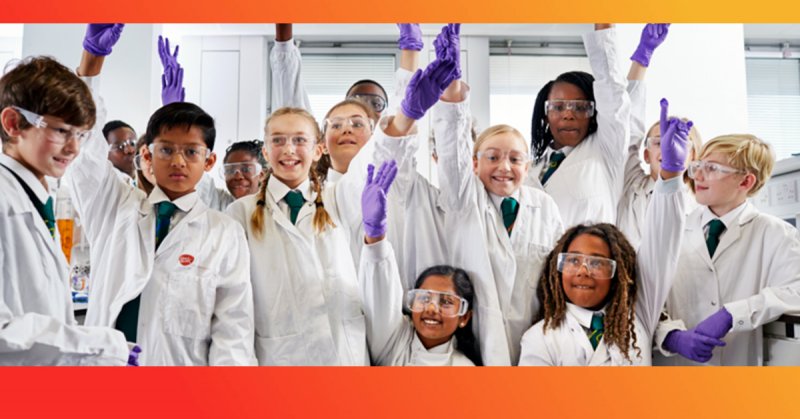 GSK STEM Education believes in the magic of science for students and their teachers everywhere.
To support Key Stage 3/third and fourth level science teachers, GSK STEM Education has created a unique set of free educational resources to support learning in the classroom. Focused on STEM and designed to inspire students and add real-world appeal to lessons, they include focused curriculum linked independent learning tasks, creative Lab activities and inspirational films, making them easily adaptable to fit in with lesson planning.
Students can explore the real-world application of STEM subjects, with the aim of inspiring the next generation of scientists and engineers to help develop the ground-breaking ideas of the future.
World Antibiotics Week is 13-19 November and GSK STEM Education invites students and teachers to start the conversation, about diseases and the medicines needed to prevent them, with the 'New Ammunition' resources on medicine making and development.
By registering on the GSK STEM Education website, teachers can receive a free, periodic table poster updated with new elements, for their classroom wall.
>> Read the full versions here.