See Science is committed to supporting STEM (Science, Technology, Engineering and Mathematics) delivery across the whole of Wales to all schools, FE colleges HE Institutions and community groups.
We offer a range of products and services that support the teaching and learning of STEM subjects in Wales within a real world context.
Workshops and Projects
See Science offer a variety of bilingual STEM workshops and CPD for schools and businesses which can be tailored to suit your individual needs – read more here.
Find out about the current projects See Science has initiated or is involved with here – and our previous projects here.
STEM Ambassador Hub Wales
See Science coordinate the STEM Ambassador Hub in Wales to help inspire young people about STEM.
We keep schools in Wales informed about high-quality activities that they can access to enrich and enhance the STEM curriculum and enable them to use a range of STEM Ambassadors, so that teachers can incorporate into their teaching exemplary links to the world of work.
Participating in the STEM Ambassador programme is easier than ever via the STEM Ambassador website, designed to put you in control of your STEM Ambassador experience.
How do I use the website to engage with STEM Ambassadors?
You can register and request a STEM Ambassador through the website whenever you want and wherever you are.
STEM Ambassadors are volunteers from a wide range of science, technology, engineering and mathematics (STEM) related jobs and disciplines across the UK. They offer their time and enthusiasm to help bring STEM subjects to life and demonstrate the value of them in life and careers.
Registering and requesting a STEM Ambassador via the website is quick and easy. You can access the website on your smartphone, tablet or PC whenever it's convenient.
CREST Awards
CREST is Britain's largest national award scheme for project work in the STEM subjects - Science, Technology, Engineering and Maths. CREST brings science to life by offering young people aged 11-19 opportunities to explore real world projects in an exciting and innovative way.
See Science is the Regional CREST Support Organisation (RCSO) Wales. We provide expert guidance throughout the CREST Awards scheme.
Read more about See Science and CREST here.
Resources, activities and providers
Follow these links for comprehensive lists of up-to-date resources, activities and external providers offering STEM-related activities or services.
Feedback
"The project has definitely strengthened transition links, made us consider teaching skills in different ways and equipped pupils with a stronger drive to pursue a career in science in the future. Many thanks all!! Please feel free to pilot any schemes on our family of schools in the future."
Read more feedback and testimonials about See Science's services and projects here.
STEM ON STAGE - Family Science Event, Margam Park, Port Talbot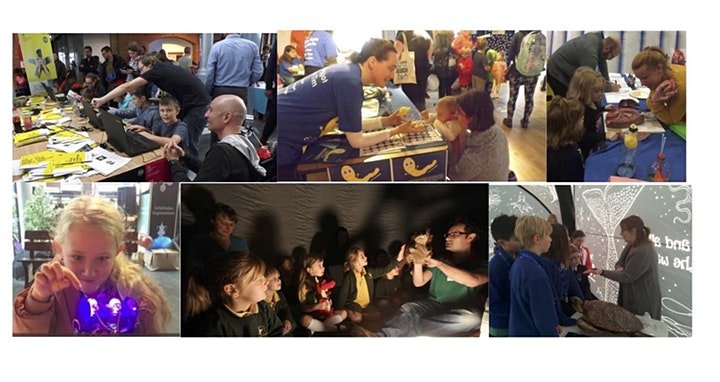 Saturday & Sunday, February 22& 23
A family friendly event with STEM Ambassadors on show at this wonderful venue.
Book your free ticket for a fun filled experience of Science! Entertaining activities to wow all ages from children to adults. We will be joined by the amazing Techniquest STARLAB, for an out of this world experience of the night sky! (limited places available at the event) STEM Ambassadors will be welcoming visitors with a host of amazing activities at The Orangery Margam Park. TV presenter Dan Rouse will be entertaining you with a talk on brilliant and bizarrre birds and wildlife conservation.
We have magicians of maths, Astronomy, Energy experiments and much more!
Don't miss out - your ticket includes free entry and parking at Margam Country Park. Tickets must be produced for entry to the event.
This new event is sponsored by STEM Learning, the UKs largest provider of careers support in Science Technology Engineering and Maths.
Booking here.
Cardiff Science Festival 15-18 February 2020

Cardiff Science Festival takes over Wales' capital to inspire and educate. We showcase science, technology, engineering and maths, integrating them into the capital city of Wales. The four-day festival spreads throughout Cardiff's libraries, cafes, bars and streets, with hidden events for your to discover.
Our aim is to celebrate science, technology, engineering and maths, and how they affect our every day lives. We bring science to you, with a range of events that are guaranteed to captivate and teach you something new.
Cardiff is a hub for science research and world-renowned science communicators. By following our map around the city, you can learn something new from the best researchers and communicators, right on your doorstep.
More information here.
Download 'Our Diverse Planet' activity packs for British Science Week 2020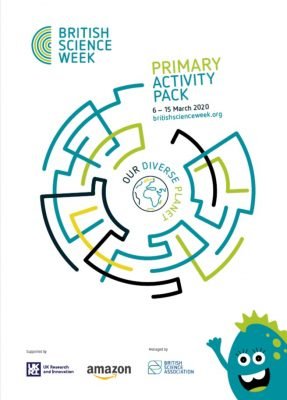 British Science Week, March 6 - 15.
The theme for the British Science Week 2020 activity packs and poster competition is 'Our diverse planet.'
The packs contain lots of activities on this theme, with anything from biological diversity and social diversity, to the diversity of knowledge and STEM careers.
Packs available for Early Years, Primary and Secondary.
If you use the activities, don't forget to let the BSA know, by tagging #BSW20 on social media.
Details here.
See Science Director receives MBE
Cerian Angharad, from See Science Ltd, has been awarded an MBE in the 2020 Queen's New Year Honours List.
As well as heading the See Science team, Cerian currently works in several other related capacities. She is Teaching and Learning and Gender Balance Coach at the Institute of Physics and Conference Organiser for the Institute of Physics in Wales. She has been involved with the Association for Science Education (ASE) for many years and has represented Wales as a Field Officer since 2004. In this capacity she organises a wide range of events for science teachers in Wales.
Cerian established the See Science consultancy with Liz Terry in 2010, with the mission to inspire and motivate young people, teachers and the wider public across the whole of Wales to engage with science, technology engineering and mathematics.
Cerian explains:
"I started See Science because I wanted young people to experience opportunities that seemed to be missing from their education. I was concerned about the skills crisis facing the UK in Science, Technology, Engineering and Mathematics (STEM). The sector suffers from significant under-representation of various groups, notably women and people from minority ethnic groups. Our mission is to inspire all young people by providing new skills and experiences. We are also keen to raise the profile of STEM industries and provide positive images of STEM in the workplace."
>> Read the full versions here.