Greenpower Goblins Race to the Finish!
The products of 5 months work by Primary pupils in South Wales were showcased at the Renishaws Greenpower Goblin event on Saturday June 9th. Pupils had been building sustainable electric kit cars mentored by STEM Ambassadors or engineers. Yr 5 & 6 pupils worked on the build in teams, driving the cars through drag races, chicanes, circuits and assessed for sustainable design, engineering knowledge and team work.
This is a fantastic and inspiring opportunity for schools. STEM Ambassadors Bob Love and Ben Mason supervised Edwardsville Primary (Quakers Yard) and St Philip Evans (Cardiff) respectively.
Renishaw Miskin STEM Ambassador team acted as judges, guides, circuit builders and safety guards at the event.
Primary Schools at the finals were: Caedraw, Croesty, Llanilltud, Millfield, Nantymoel, St Julians, St Philip Evans, Ysgol Gyradd Tonyrefail, and Edwardsville.
Nottage Primary were overall winners. All teams had additional points for Portfolios
St Philip Evans has an additional award for Greenest Bodywork. Edwardsville for Best Presented Team.
The testimony from the teachers, pupils and STEM Ambassadors was overwhelmingly high:
"In 30 years of teaching I have never seen pupils so inspired and engaged in a project. The project has made an impact on their learning associated with the curriculum. Next year it will be a fixture in the timetable" Mr Davies, Headteacher Edwardsville Primary.
"Bob was superb, we would never had completed the project without him" Catherine Price Science Coordinator
"This has been the best year I have ever had in school" Jack yr 6 Edwardsville
"Pupils were excellent, well behaved and worked really hard on the project" Ben Mason mentoring St Philip Evans Primary
LEGO Mindstorms Training for STEM Ambassadors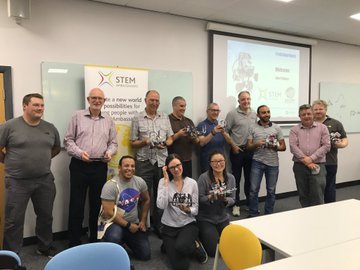 On Thursday, October 11th, STEM Ambassadors in Cardiff enjoyed learning how to use LEGO Mindstorms® Education EV3 kits to engage young people with building and programming LEGO robots. The training was delivered by John Pinkney of Raising Robots, an experienced teacher who is now a LEGO Education Certified Trainer. Throughout the day, John's classroom experience was evident with many tips on how to let pupils be creative with LEGO as well as plenty of practical Dos and Don'ts of robot building with groups of pupils.
The day started with Ambassadors pairing up to enter into a simple first across the line race. It was fascinating to see the differing styles of robot, given that all had been given the same basic instructions by John then encouraged to 'make it their own'. Once the building was complete, the Ambassadors were introduced to the LEGO Mindstorms programming software – a simple to use, intuitive coding tool.
Following the race, it was time to adapt the robots, making them more and more sophisticated so that they ended up with ones that could spin around, 'see' obstacles and even 'speak'!
The highlight of the day was the final competition – the inaugural 'LEGO Grab-Jousting Tournament', where robots were required to race towards a central object then pick it up and move it out of their opponent's reach. Competition was fierce and robots were tested, tweaked and re-tested before being perfected for the final show-down. The final bout of the tournament ended in a dead heat with both robots engaged in a tug-of-war. A great end to an enjoyable day!
The STEM Ambassadors are now looking forward to taking some kits out to schools and community groups to share what they have learnt with enthusiastic youngsters. Alternatively, if you already have the kits at your school, they can come along and help you get the most out of them. If you are a teacher or a group leader you can request a visit by emailing ambassadors@see-science.co.uk.
This is what some of the STEM Ambassadors had to say at the end of the day:
"An engaging fun day. Instructor brought the subject to life. Can't wait to take it out to schools."
"Very engaging way to introduce Robotics. Excellent delivery focussed on young pupils in schools."


Professional Teaching Awards Cymru
Do you know an outstanding teacher that deserves recognition? Is there someone at your local school that needs celebrating? Are your teaching staff leading the way in technology or science?
The Professional Teaching Awards Cymru are back for 2019! Education Secretary, Kirsty Williams is looking for the very best education professionals that Wales has to offer and those that have made a real difference to their school or education setting.
There are ten categories this year including Teacher of the Year, Headteacher of the Year, Inspirational use of the Welsh Language and, new for 2019, Youth Work in Schools so there is plenty of opportunity for your school to get the recognition that they deserve.
If you're a teacher, student, parent, employer or colleague and know someone that would be worthy of a Professional Teaching Award you have until midnight on 30 November 2018 to make a nomination online here .
New STEM Ambassador videos launched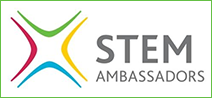 STEM Learning have developed new videos promoting the STEM Ambassador programme to schools, colleges and community groups. STEM Ambassadors inspire the next generation. If you haven't yet requested a STEM Ambassador visit to your school, college or group, find out more about the benefits of getting involved by following the appropriate link:
"We've learnt from working with STEM Ambassadors, it's the importance of role models. It's really powerful for young people to see somebody in front of them, to see a pathway, whether that's to a career or to a particular lifestyle of choice that they can aspire to." Christina Watson, Head of Programmes UK Youth.
STEM and Archaeology – a successful partnership
STEM Ambassador Poppy Hodkinson has been working with 5 primary schools in Cardiff to develop a new workshop: STEM and Archaeology.
Poppy asked STEM Ambassador Coordinator Sian Ashton to source the schools and teacher interest. A draft of the project was sent to teachers.
Following interviews with teachers, Poppy developed the workshop matching key curricular topics (graphs, investigation, discussion, critical analysis,) with the Scientific principles of Archaeology. 'You Are What You Eat' covers Isotopes, Food Chains, Strontium maps and Nutrition.
Sian Ashton SA Coordinator attended a session at St Peter's Primary, the teacher response was overwhelmingly positive and an immediate request for return in June was made.
Poppy is conducting evaluation interviews with all teachers involved.
Sian arranged a meeting with Poppy and Community Archaeologist Keith Edge in Neath Port Talbot. The workshop is now planned to be run at Groes Primary School Margam. Plans are also in progress to run the workshop at a Country Park where schools and community groups will be invited to a STEM – Archaeology day.
"This workshop ticks so many boxes: it was inclusive and stimulating for pupils. We as teachers learned a new way of teaching a hard topic such as Isotopes and graphs!" Mr Wild (Yr 6 Teacher).
Wet weather on a sunny day for New Inn pupils
STEM Ambassador Steve Hoselitz introduced the Water Cycle to Foundation Phase pupils at New Inn Primary, Pontypool. The half day session began with an assembly asking pupils to think about the weather in relation to where they live in Wales.
This was followed by an interactive workshop where pupils created their own 'weather in a bag'. They filled a bag with a small amount of water, which was placed on a windowsill to demonstrate evaporation, condensation, clouds and rain.
Steve commented, "This is the youngest selection of pupils who have taken part in the workshop and they showed a lot of enthusiasm".
Mrs Harris the Year One teacher said, "The children were really interested and they remembered lots from the assembly that Steve gave".
One reception pupil commented, "I hope it isn't going to rain too much, I haven't got an umbrella!"