Nominations are open now for Royal Society of Chemistry Education prizes 2022

Would you like to recognise a science educator who is doing amazing work in inspiring the next generation of scientists or supporting colleagues with their development?
There are two main categories:
Excellence in Education Prizes celebrate educators in primary, secondary, further education and higher education – including, teachers, technicians and more. These prizes recognise a wide range of skills – from curriculum design to effective teaching, and from personal development to working culture.
Horizon Prizes for Education highlight recent initiatives that are set to make a real impact within the field of education, and are open to teams and collaborations as well as individuals. These initiatives could include teaching programmes or techniques, research breakthroughs, innovative technologies and more.
Closing date for nominations is 22 June.
Details here.
STEM Learning Awards 2022

STEM Learning Teaching Awards
High quality teaching is key to developing the next generation of STEM professionals and STEM Learning is keen to recognise the educators that go above and beyond to support students pursuing STEM subjects. CPD is an important part of this development and teachers who have undertaken CPD at the National STEM Learning Centre in York, through our network of Science Learning Partnerships, via our online CPD, or with one of our partners in Scotland, Wales and Northern Ireland are all eligible to apply for these awards.
STEM Inspiration Award
The STEM Inspiration Awards celebrate the individuals, organisations and STEM clubs working to inspire young people in science, technology, engineering and maths. We want to recognise the initiatives which make a real impact, sparking enthusiasm for STEM subjects and paving the way for careers in STEM. The awards are sponsored by UK Research and Innovation (UKRI).
Nominations for both Awards close on 11 April.
Details here.
ABSW Young Science Writer Award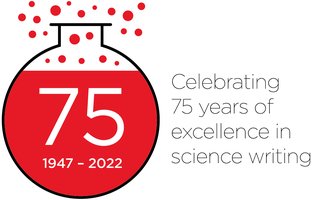 The Association of British Science Writers invites students from non-selective state funded schools, or those who are home schooled with disabilities and who cannot attend school in person, aged 14-16 years, to submit an 800-word essay on any subject in science, technology, engineering and/or mathematics.
In 2022 the competition is open to students in Glasgow, Cardiff, Birmingham and the London Borough of Newham. This is a travelling award so will be open to other areas in subsequent years.
This competition is designed to get young people writing and thinking about the big questions in science, technology, engineering and maths, with a focus on how science impacts on policymaking and society.
Closing date Friday 8 April.
Details here.
The Great Bug Hunt 2022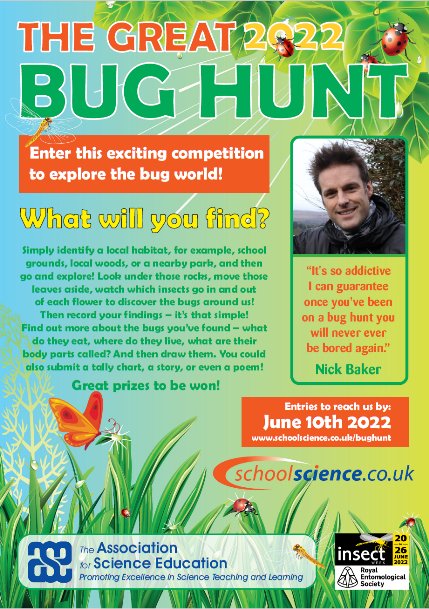 Encourage your pupils to get outside to learn more about living things and their habitats and to use the outdoor classroom – with our fabulous competition. Simply identify a local habitat, get your pupils to explore and discover the minibeasts (bugs) that live there, draw them and record their findings – it's that easy!
And you could win (among other things!), a bug day in your school! Jackfield Infant School in Stoke on Trent was the 2021 winner, and the children there had a wonderful day, provided by our partners, the Royal Entomological Society, finding out more about the insects and bugs that they found. The best part was holding the leaf insects and getting up close to bumblebees!
To help you on your bug hunting way, and to give you lots of ideas, join the NFU for a live lesson on 15 March to learn all about minibeasts, their habitats and the important jobs they do.
Closing date 10 June.
Details here.
Moon Camp Challenge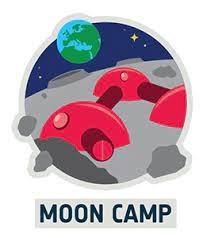 Moon Camp is an education project run in collaboration between ESA and the Airbus Foundation, in partnership with Autodesk. It uses innovative learning technologies to challenge students to design their own Moon settlement with a 3D modelling tool (Tinkercad or Fusion 360). It features preparatory classroom activities that focus on learning by-design and science experimentation.
Teams first have to develop a number of interdisciplinary experiments to explore the extreme environment of space and understand how astronauts could live on the Moon. Then they have to design their Moon Camp, which should be adapted to the Moon environment, consider the use of local resources and provide protection and living and working facilities for the astronauts.
Moon Camp is divided in three separate categories featuring different levels of complexity: Moon Camp Discovery, Moon Camp Explorers and Moon Camp Pioneers.
Be creative and start designing your own Moon Camp now!
Closing date for registrations 21 April.
Details here.
UK-RAS Network School Robots Competitions
Our two creative kids competitions are back for 2022!
Draw a Robot Competition for Ages 5 – 7 (FP)
Do you have the imagination to draw a winning robot design? This is your chance you show off your creativity and design an imaginary robot you'd like to see in the future. We're looking for original, practical, and ingenious robot designs. Your robot could do any task or job you can think of – the only limit is your imagination!
Once Upon a Robot Competition for Ages 7 – 11 (KS2)
Do you have the creativity to write a great robot story? This is your chance you show off your imagination and take the readers on an adventure into the world of robotics and intelligent machines. We're looking for exciting, intriguing, and thoughtful short stories all about robots.
Closing date for both competitions is 24 April.
Details here.
British Science Week Poster Competition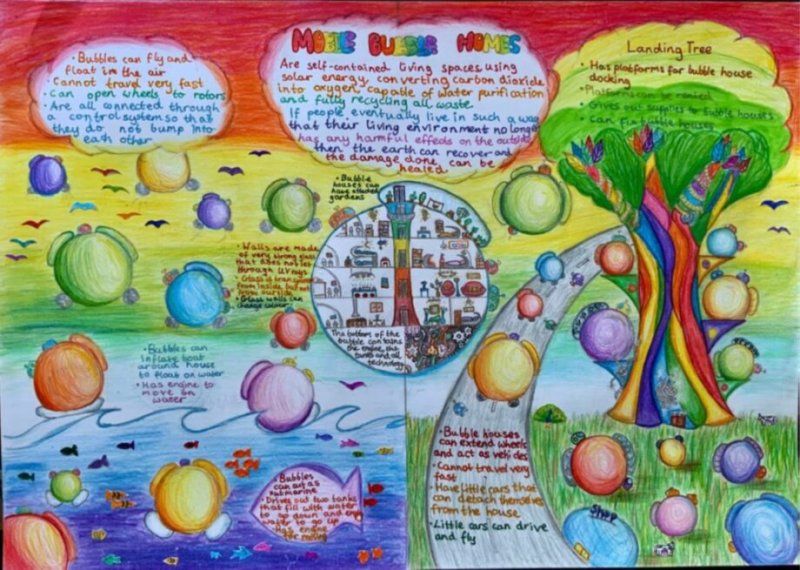 The theme for British Science Week 2022 poster competition is 'Growth'.
Your poster could explore a tadpole's journey into a fully grown adult frog, or look at the ways population growth is affecting the planet. For inspiration on poster ideas, check out the 2021 on the competition website!
We wish that everyone could be a winner, but we only have a limited number of prizes. So, here's the lowdown on what the judges will be looking for:
Creativity in approach – Innovative angle on the content or creative interpretation of the theme
Content – Clear, accurate and informative about a STEM topic
Effective communication – presented and communicated in an engaging way
There are 4 age categories from 3 to 14 years old.
The deadline for entering the competition is 5pm on the 15 April 2022.
All details here.
The Young Coders Competition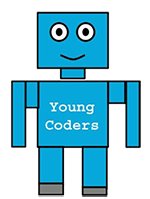 The Young Coders competition is back again for 2022 bringing to you an amazing opportunity for you and your students to gain hands-on experience in coding with Scratch.
Originally just for primary schools years 4-6 we listened to last year's feedback and have opened up the entry criteria to now include secondary years 7 & 8.
This year's theme is 'My World, Our Planet'. We are looking for participants to create a reactive game which encourages children to take care of natural resources and improve the environment. The opportunities are endless and you are in charge of creativity!
Closing date 27 May.
All details here.
UKBC Biology Challenge 2 - 20 May 2022.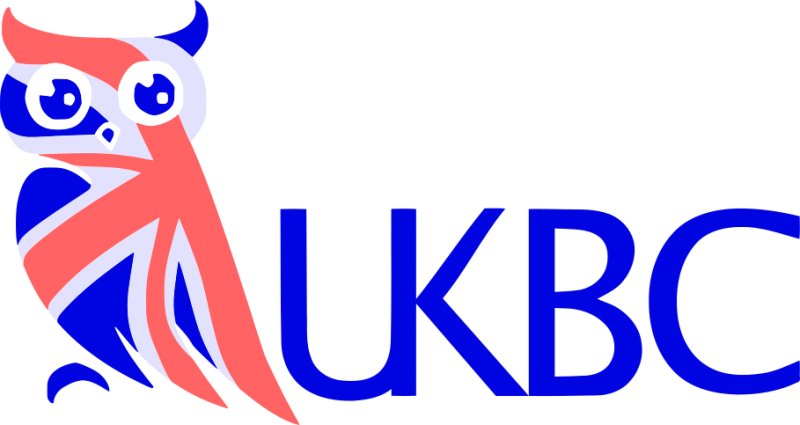 Biology Challenge stimulates curiosity for the natural world and encourages students to take an interest in biology outside of school.
Biology Challenge is open to 13 to 15 year-old students.
The competition consists of two, twenty-five-minute multiple choice papers to be taken online under staff supervised exam conditions.
Questions will be set on the school curriculum, but the competition will also reward those students whose knowledge of the subject has been increased by reading books and magazines, watching natural history programmes, taking notice of the news media for items of biological interest, and are generally aware of our natural flora and fauna.
Schools will be able to conduct Biology Challenge in whatever way best suits their pupils, ensuring that they enjoy participating and have a reasonable expectation of recognition for their achievements. As well as being able to submit their pupils' scores to the national competition, schools will be encouraged to award their own prizes and to make use of certificates provided for them.
Register from November 1st.
Details here.
British Biology Olympiad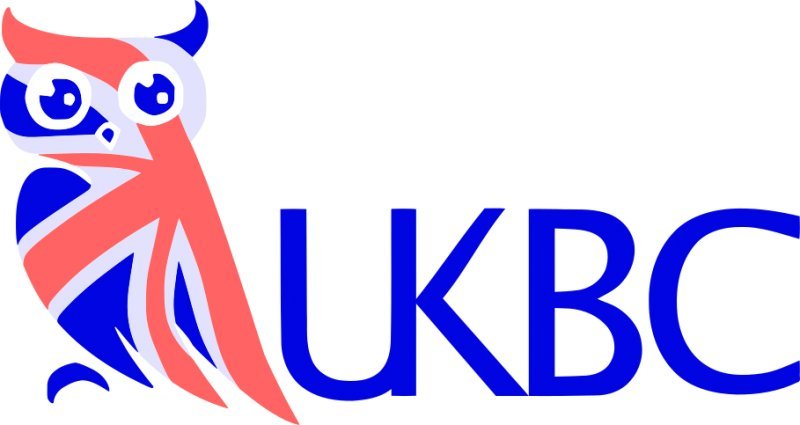 Advanced problem solving competition for A level students and entry point for the International Biology Olympiad.
The BBO challenges and stimulates students with an interest in biology to expand and extend their talents. It enables students to demonstrate their talent and to be suitably rewarded with publicly recognised certificates and medals.
The BBO is open to students in post-16 education studying at school or college. The competition consists of two, 45-minute multiple choice papers to be taken online under staff supervised exam conditions. Students will be presented with topics and ideas which they are not familiar with, so will compete with their problem solving skills and understanding of core principals.
In addition to encouraging and rewarding pupils in their studies, the BBO is the first stage in selecting a team to represent the UK at the International Biology Olympiad (IBO). The IBO seeks to challenge by both theory and practical tests some of the top pre-university biology students in the world, with over sixty countries taking part.
Register from November 1st.
Details here.