Last updated: 22 January 2021
Creative Earth Competition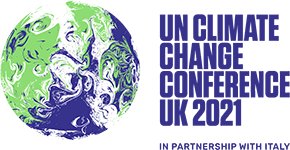 Creative Earth is an art competition for people aged 16 and under from across the UK, run by the UN COP26 Climate Change Conference in collaboration with WWF.
As part of the Together for Our Planet campaign, we're inviting young people to get creative and show global leaders the world they want to live in.
Whether it's green forests and garden cities, clear skies and wind turbines or oceans teeming with life – we want you to paint, draw or design a piece of art that shows how you'd like our planet to look in the future.
Closing date is 28 February.
Details here.
Tallest Paper Tower - 2021 Fluor Engineering Challenge!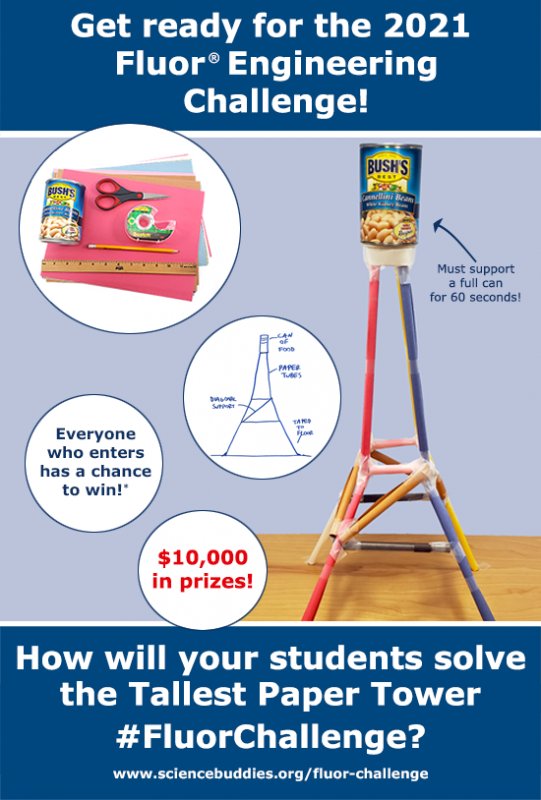 Reach for the Sky with the Tallest Paper Tower Challenge
With only paper and tape, the 2021 Fluor Engineering Challenge asks students to build a tower, as tall as possible, that can successfully support a can of food at the top for a full sixty seconds.
This challenge is fun for all ages and can be done in the classroom or with students at home. The materials are deliberately simple. We want as many students as possible to build a paper tower and enter the challenge!
Submissions for the Fluor Challenge will be accepted February 14-March 12, 2021, but you and your students can start planning, designing, and building now!
Details here.
CyberFirst Girls Competition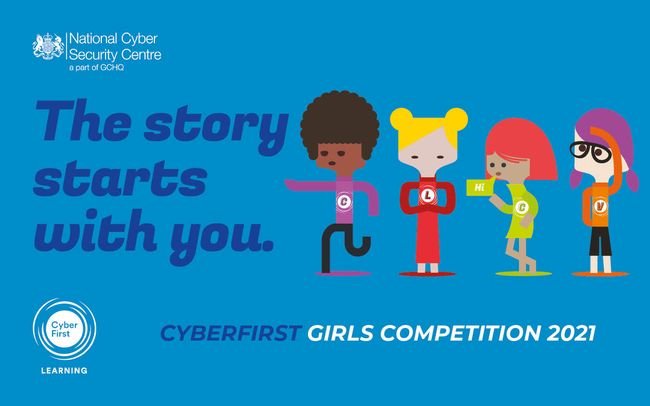 The CyberFirst Girls Competition provides a fun but challenging environment to inspire the next generation of young women to consider a career in cyber security.
The competition is a team event, with each one made up of 4 female students from Year 8 in England and Wales, Year 9 in Northern Ireland and S2 in Scotland.
It consists of three distinct phases:
the online qualifying round to identify the top teams in each home nation and English region
the semi-final where teams will battle it out in their areas to qualify for a place in the Grand Final
the Grand Final where the top ten teams drawn from the regions in England, and from Wales, Scotland and Northern Ireland will gather to compete for the title of UK CyberFirst Girls Competition Winners.
Whatever your ability, from beginner to expert, the CyberFirst Girls Competition is an opportunity to learn something new about cyber security.
Qualifying round starts 25 January.
Details here.
FIRST® LEGO® League

An online competition for teams of young people, to encourage an interest in real-world themes and develop key skills that are crucial for their future careers.
Registration is now open for 2020-2021 FIRST® LEGO® League Challenge season. Get your team together and think about the ways we can get people moving.
FIRST® LEGO® League Challenge is a global STEM programme for teams of young people, to encourage an interest in real world themes and develop key skills that are crucial for their future careers. Young people work together to explore a given topic and to design, build and program an autonomous LEGO® robot to solve a series of missions.
The programme has flexible options and awesome video tutorials to take you through each of the 12 guided sessions. Teams will be able to compete at a remote event at the end of the academic year (giving them plenty of time to prepare) using the dedicated Remote Event Hub platform. Help encourage your students' interest in solving real world issues and develop key skills that are crucial for their future careers. We can still give them some excitement this academic year!
Details here.
For more information specifically on the Welsh tournaments contact Cerian at cerian.angharad@see-science.co.uk.
MathWorks Math Modeling Challenge
A brand new competition coming to England and Wales in 2021 – completely free for participants. It's hugely popular in the US and now sixth form students can benefit as well.
MathWorks Math Modeling Challenge is a free online competition for sixth form students in England and Wales, and high school juniors and seniors in the U.S. Working in small teams, students devise a solution to a real-world problem using mathematical modeling.
£79,000 in scholarship prizes – a total of 37 monetary prizes – is up for grabs.
Registration is open until February 19, 2021. The competition will take place February 26 to March 1, 2021.
Details here.
Longitude Explorer Prize

As the world becomes smaller and more connected, our roles as global citizens are increasingly vital to make the world a fairer, more equal and sustainable place.
As the leaders of tomorrow and the next generation of innovators, we know young people are using their creativity, drive and innovative thinking to tackle the challenges faced by millions across the world, which is why this year we are calling on 11-16 year olds across the UK to answer the call to action:
How can you use technology to create an app, product or service that will make the world a better place, enabling people to live better, live longer, live greener and live together?
Closing date is February 12.
Details here.
Apps For Good 2021 Awards are now open!

The Apps for Good 2021 Awards is open and students can now submit their entries! The Awards will be a completely virtual event allowing students from around the world to compete in a safe and supportive online setting.
Entering is quick and easy through an online form and all students who enter will receive personalised written feedback from specialist shortlisters. Entries that make it to the finals will have the opportunity to pitch their idea to representatives from top tech companies for the chance to win trophies, prizes and bespoke engagement opportunities.
The judges recognise the enormous challenge students and teachers have faced this year and are looking for interesting and unique ideas that will help improve the lives of others, not expecting fully coded professional Apps- so encourage your students to enter today!
Closing date is April 23 2021.
Details here.
RAS GCSE Astronomy Poster Competition

Did you study for GCSE Astronomy with a view to taking the exam in the summer of 2020?
If so, you are eligible to enter our RAS GCSE Astronomy online poster competition.
The RAS invites you to present an astronomy or geophysics topic of your choice as an academic style poster with book token prizes of 1st = £100, 2nd = £50, 3rd = £25.
All entries will be displayed on our website, and judges from the Royal Astronomical Society Education and Outreach committee will pick three winners!
Closing date is February 1.
Details here.
Bristol Science Film Competition 2021
The annual competition is open to amateur and experienced film makers.
Submitted films must be 10 minutes or fewer and be either a non-fiction, science-based film, or have a science fiction theme.
To be considered for the science fiction category, the film must have clear science inspiration.
Shortlisted films will be screened at a virtual or theatre-based filmmaker's screening and on the Big Screen in Millennium Square, Bristol, at a later date. The winners will be announced at the filmmaker's screening.
The closing date for the 2021 competition is May 1st 2021.
Details here.
Farmvention Competition - NFU Education
Farmvention (when farming meets invention) is a national STEM competition run by NFU Education and aimed at children aged 5 – 14 (school years 1 -9) in England and Wales.
This year, the challenge is all about the problems that climate change creates for British farmers and how they are fighting it to become Climate Superheroes.
There are four themed inspiration hubs to get you thinking and each one is full of investigations to complete at home or school, alongside some exciting tours of our climate superheroes' farms to inspire you.
You can enter the competition individually or as part of a team or class and there is a host of amazing prizes for the winning schools. Winners will present their ideas at a prestigious event at the Houses of Parliament and win £1000 for their school to spend on STEM or Outdoor Learning equipment! All entrants will become certified 'farmventors' and receive a reward pack including a certificate and mini prize.
Entries close on 31 May 2021.
Details here.
The Big Bang Competition goes digital for 2021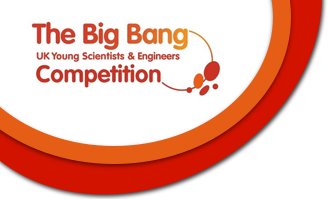 The Big Bang competition recognises young people's achievements in STEM and builds confidence in project-based work. The science stream focuses on investigation, discovery and use of scientific methods. Students can enter any project work they have completed at school, home or in a STEM club.
The first stage is online heats, where students compete for a chance to showcase their work at The Big Bang Competition Finals and get their hands on amazing prizes. Projects are judged by leaders in industry and academia, who provide feedback to all competitors/finalists to help them continue to build their ideas, skills and confidence.
As well as the opportunity to network with scientists, students can include their involvement in the competition in their extracurricular activities on UCAS forms and personal statements.
Find out how to get started and inspire students with past projects on the Big Bang website.
Entries close late March.
Details here.
The UK Junior Water Prize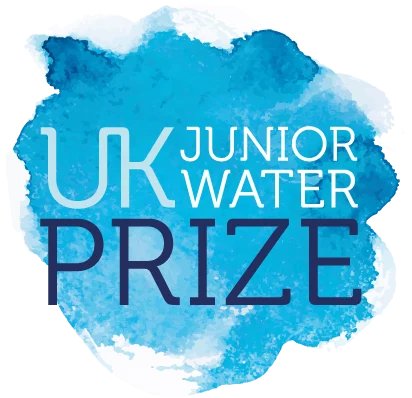 The UK Junior Water Prize is aimed at solving environmental challenges with a link to water, which we know is super important for our future! For the competition, you need to identify an issue and undertake some research and experiments to find a practical and innovative solution.
You are eligible to take part if:
You are going to be between 15 and 20 years of age for World Water Week in August 2021
You haven't started University yet
You started your project whilst you were in a full-time education
Your school or college (including home schooling) is in the UK
You can take part on your own or in a pair, as long as both partners meet the eligibility criteria above. School assignments qualify for entry, but you need to specify your role in the project.
The winning entry will qualify for an all-expenses paid trip to represent the UK and their school at the Stockholm Junior Water Prize in Sweden with a chance to win the cash award of $15,000 USD!
Competition is open until February 2021.
Details here.
Teacher Award - The Rolls-Royce Schools Prize for Science & Technology
The Rolls-Royce Schools Prize for Science & Technology is an annual awards programme that helps teachers increase science, mathematics, and technology engagement in their schools and colleges. The awards programme is open to all schools and colleges in the UK.
Previously called the Rolls-Royce Science Prize, the award has been refreshed to encourage entries not only from science and maths, but also engineering, design and technology projects including 3D printing, robotics and coding, data science, artificial intelligence and electrification.
Entrants will submit an application outlining an idea for a sustainable science, mathematics or technology initiative, specific to your school and which you would deliver between September 2020 and June 2021.
Closing date 28 May.
Details here.
The Linnean Society Special Species Competition – No age limit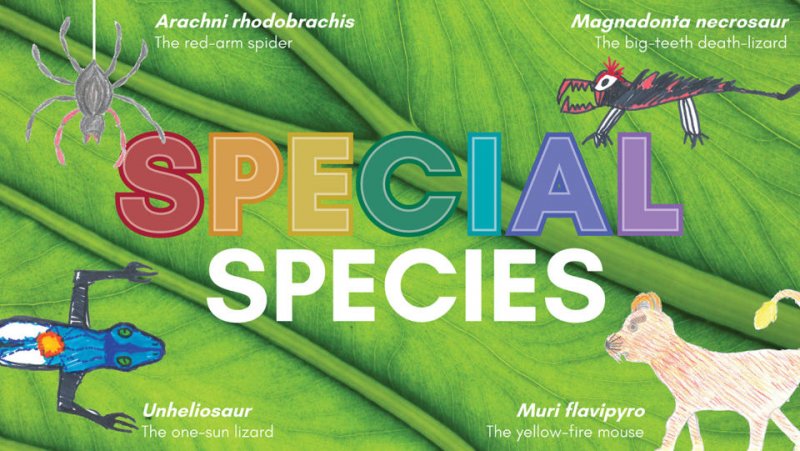 We are currently accepting entries from all age groups (even adults!)
To enter, create a new species and send the following to learning@linnean.org:
The first name, age (in years) and city of the person who created the special species

A picture of your special species

It's scientific and common name

A paragraph giving the reasons for its adaptations and a description of its habitat (aim for around 50 words)
We will be highlighting great works as we receive them.
Winners are awarded in April, July, September and December.
The Linnean Society have resources to help you chose your species.
Details here.